Spinalogic allows you to always be prepared and focus on adjusting rather than administrative tasks
Dictionaries for everything. Anywhere you take notes from appointments to clinical, there is a fully-customisable dictionary of common entries making for a point-and-shoot style of note-taking. Allows much faster, more accurate and more readable notes. Never waste your time thinking about how to spell 'spondylolisthesis' again!
Pre-templated dictionaries for reflexes, muscle tests, range of motion, ortho, neuro, symptoms and drugs. If there are any special examinations that you do, you can just create new ones in the appropriate dictionary.
Exam results summarized automatically on a case review page. Initial to current comparisons, color-coded for instant highlighting of problem findings and instant visualization of patient progress.
DICOM image management and analysis. The legal form of x-ray storage is the DICOM format. Spinalogic can receive, store and display DICOM images and has advanced, fast and easy chiropractic line-drawing built right in. Check out how spinalogic image drawing works in more detail.
Posture analysis. Perfect for Chiropractic – built right in.
Exercise Management. If giving exercises is a part of your practice, then you'll love Spinalogic. Using our advanced exercise management tools, exercise compliance will go through the roof. Spinalogic comes pre-loaded with over 40 exercise templates which probably cover most of what you need straight out of the box.
Mark any special situation for your patients with tagging. You want to mark who has been to a workshop? Use a tag. You want to mark who has high blood pressure? Use a tag. Completely flexible and visible to all users viewing the patient's file, the applications for tagging is limited only by your imagination.
Smooth patient flow. Patient is called up to the table and their record is bought up automatically, you don't need to worry about forgetting names.
Super awesome adjusting screen. Easily see x-rays and patient info at every adjustment. Helps to eliminate memory management and enables you to stay on top of every case, without any extra effort.
You will see:

Auto filled templated adjustment notes
Analysed images (x-rays and/or posture)
Adjustment warning notes
Pregnancy and due dates
List of previous events, like appointments, notes and admin messages
List of exercises given
DOB and birthday notification when their birthday is near
Last and next appointment times
Schedule of care timeline if your patient is on a care program
Adjusting messages
Optional micro-tics which are discussion point prompts available to add to specific appointments automatically. Ensures you don't forget to stay focused on chiropractic communication
Easily add departure messages for your staff or yourself. Once the patient has left you have a follow-up to ensure you or your staff complete a task related to their case in a timely way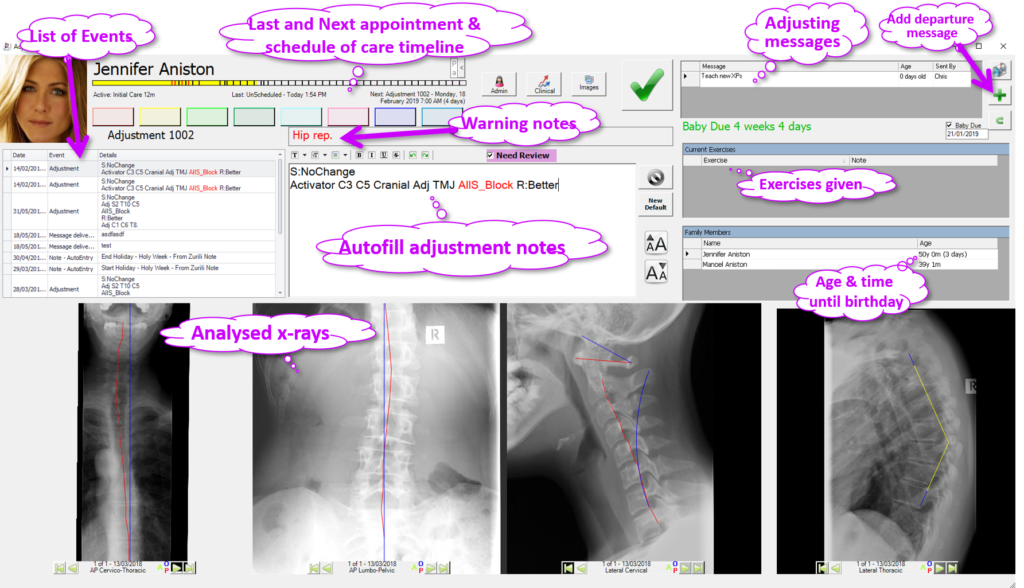 Clinical Notes for Chiropractors
Easily recorded and customisable clinical notes in the patient file.
In today's world of ever-increasing standards it is reaching the point where it is no longer practical to use paper records to fulfil your compliance obligations. Your paperwork needs to meet and exceed the requirements of your registration board and your patient's insurers. You also need those records to be rock-solid in a court of law where the weight of expert opinion comes from medical specialists, not chiropractors. Learn more about how Spinalogic can help here.

Always prepared for your day
Clinical review list. At the end of the shift you often have 'stuff' you have to do to complete patient cases. For example, review new patient documents or x-rays, results of exams or re-exams. In other words, stuff you need to do to make sure a patient's file is complete. Never again can items slip through the cracks. Every time you see a patient, you'll be impeccably prepared. And because items are sorted by next appointment date, it's easy to do just the things you need for the next shift if you don't have time to complete them all straight away. Never before was this possible.
Sub-goaling reports allow you to be completely prepared for the day. When you patients are in the practice you are completely connected and appear to 'know everything' about every patient at the right time.
Sub-goaling reports include customisable, relevant information about your patients. You can include recent bone density results, clinical report summaries, previous exercises given, list of new patients and reports for the day, patients who need to update card details for automatic payments, anytime you desire.
There are even separate sub-goaling reports for doctors and CA's.