With automation you can design clinical processes from a higher level.
'Experts' eliminate staff training and memory management. Using our practice 'experts', even new staff will never miss another step and always do things right. Think of them as like super-charged to-do lists for everything. Removes knowledge from team-members brains and documents it for easy replication. No loss of knowledge with loss of staff.
Full Document management system – templates, merging, storage, retrieval. No paper records, paper clinical docs or x-rays to file or retrieve ever.
Document templates. Don't waste time creating documents more than once. Templates are essential to saving time. Merge fields included so you can create a personalised document, and either email or print it with one click.
Dictionaries for everything, and we mean EVERYTHING. Stop wasting time typing out the same thing multiple times. Clinical notes, messages, emails, sms, exercises, symptoms, medications, all one click away.
Automatic document filing. Just drop a doc in your scanner and it appears in the patient file. Error free, every time.
Radiology reports auto filed.
Eliminate continual appointment booking. With care plans you can book multiple appointments for you patients with one click.
Full stock control system. Can automatically be notified when stock is running low and even setup automated purchase order placement to suppliers. Stock runs low and just arrives at your doorstep, without lifting a finger.
Practice performance spotlight. Key performance metrics right at the front and centre. Now you can't miss important things like money owed, unactioned leads, lost patients and missed appointment counts.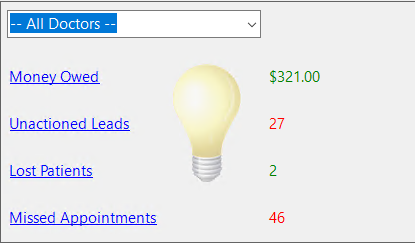 Remote shutdown. One click and all your computers shut down. Eliminates wasting time at the end of your day shutting down computers.
Performance and finance reports. Long list of reports to track everything in your practice.
Admin messaging. Create arrival stops, adjusting messages and departure stops so nothing slips by.
Patient safety net. Recall and follow-up system with customisable time frames for either appointments or individuals. Includes missed and overdue appointment list and patients who you haven't seen in a while.
Fine grade security settings allows different security control for each user.
Audit log for tracking edits.